The nave
The nave is remarkable for the simplicity of its design and indeed its exposed roof timbers may remind us of a Medieval tithe barn.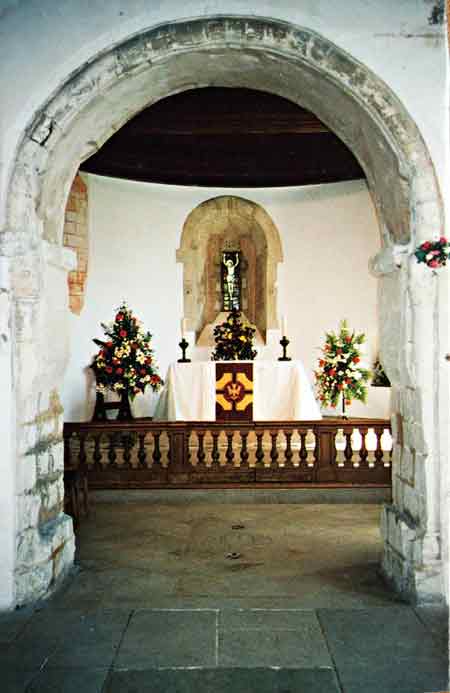 It is largely unchanged from when it was originally built-apart from the enlargement of the windows in the South wall that make it far lighter than it would have been previously-although we must not forget that they would have been glazed with stained glass. The raised area at the West end of the church was the base for the minstrel's gallery which was only removed in 1879. The bowl of the font is Norman work and was rescued from a neighbouring garden in the 19th century. Presumably it had been taken from the church during the Commonwealth period.
When a visitor first enters the church, the eye is immediately drawn to the East window and the altar beyond the rounded chancel arch. Indeed this arch, which is one of the Saxon features of the church, appears relatively small in scale in comparison with the great West wall of the Nave. This serves to create the impression of the chancel as an area set apart for the celebration of the sacred mysteries of the Blessed Sacrament. In Medieval times, a rood beam fitted supporting the figures of the crucified Christ together with Saint Mary and Saint John would have reinforced this sense of apartness; indeed the sockets into which the beam are still clearly visible.
The nave guard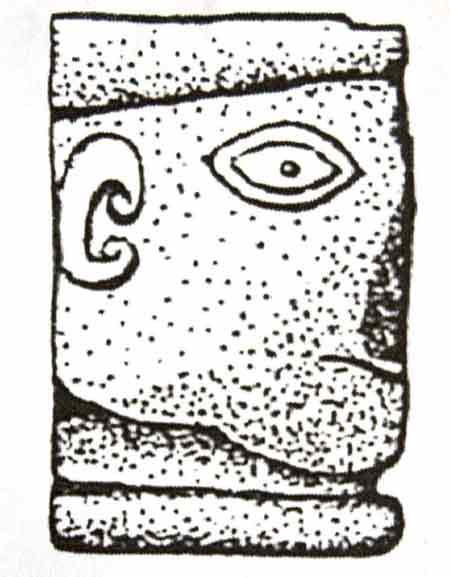 Consistent with the concept of the other-worldliness of the chancel is a particularly interesting feature of the chancel arch: the left hand capital. The primitive form of a face stares at the congregation and seems to be guarding the Holy of Holies. We can only speculate as to the intention of the Saxon mason.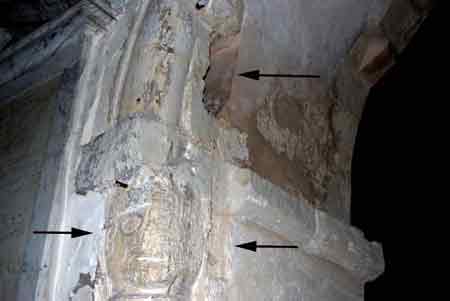 The vertical lines of the pillars of the arch were damaged in the 18th century when stonework was hacked away to accommodate box pews for the Hall family of Goldings.