The chancel
The outstanding feature of the chancel is the semi-circular apse which creates a dramatic sense of space as we approach through the relatively narrow chancel arch.
The graceful Victorian king-post roof follows the curve of the apse and makes a sharp contrast with the rough hewn rafters of the nave.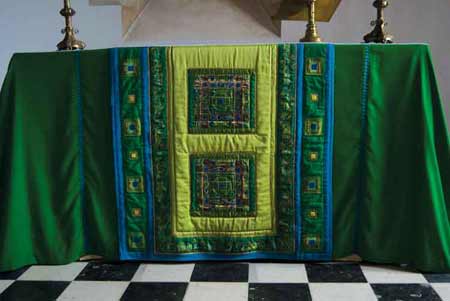 Jacobean altar rails in the form of an oak balustrade mark off the Sanctuary, where the altar table is of the same period. The altar is dressed with modern frontals which vary according to the liturgical season and are the work of Elspeth Kemp. Set in the floor behind the altar are a number of medieval tiles of the fleur-de-lys pattern. These are believed to be the work of the same tiler responsible for some of the tiling in Westminster Abbey.
The Medieval Decorative Scheme
The chancel walls retain clear evidence of the medieval scheme of decoration. On the North wall we can see red lozenges superimposed on the earlier white masonry pattern. On the South wall there are traces of a more flowing design incorporating flowers and foliage
The Chancel monuments
There are two fine 18th century monuments on the North wall of the chancel. The first dedicated to Humphrey Hall of Goldings is in the baroque style and features an oval portrait medallion in white marble supported by two life size cherubs. Hall is in 17th century dress and wears a full bottomed wig. The medallion rests on a black marble casket while the grey obelisk behind is surmounted by his family's coat of arms.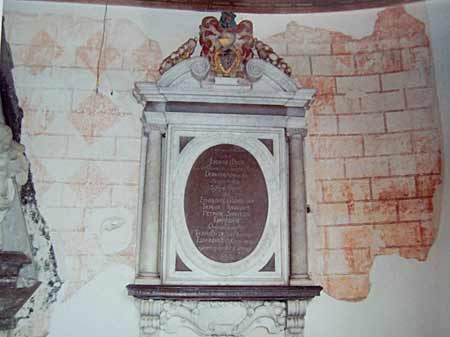 The second monument to John Byde stood in a London church for almost a century before being moved to Bengeo in 1736. This elegant neo classical memorial to the Byde family who had purchased Ware Park from the Fanshawe family in 1666 was originally erected in another church dedicated to St Leonard in Shoreditch where the Bydes had a successful brewing business whose ales were greatly favoured by Samuel Pepys.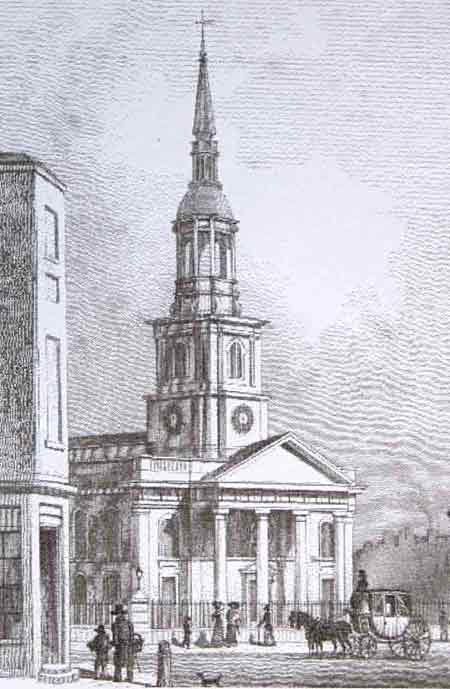 In the 18th century, the Medieval church whose peal of bells feature so appropriately in the nursery rhyme: We shall grow rich said the bells of Shoreditch had become unsafe and had to be rebuilt. The Bydes who were now landed gentry took the opportunity to move their family monument to be near their family seat in Hertfordshire.