The entrance - medieval mass dial
The small brick entrance porch is the single addition to the fabric of the original church and dates from Georgian times.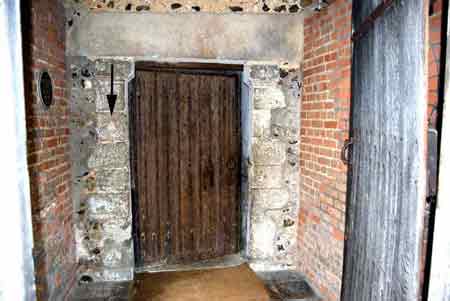 For most of the church's life, the South door would have opened directly to the outside. Moreover, the South doorway is cited as one of the Saxon features of the church with jambs constructed of irregular stone blocks laid in alternate directions.
To the left of the door when viewed from the porch, can be seen a mass dial cut into the stone to remind worshippers when services would take place. The gnomon or pointer which showed the time by casting its shadow on the dial has long since disappeared but the incisions on the dial clearly indicate the early morning as the time of the principal mass. The workmanship is quite crude and indeed these mass dials are often called scratch dials for obvious reasons. Close inspection of the surrounding stonework reveals other even rougher dials and a consecration cross.
The South door: Exterior aspect and internal handle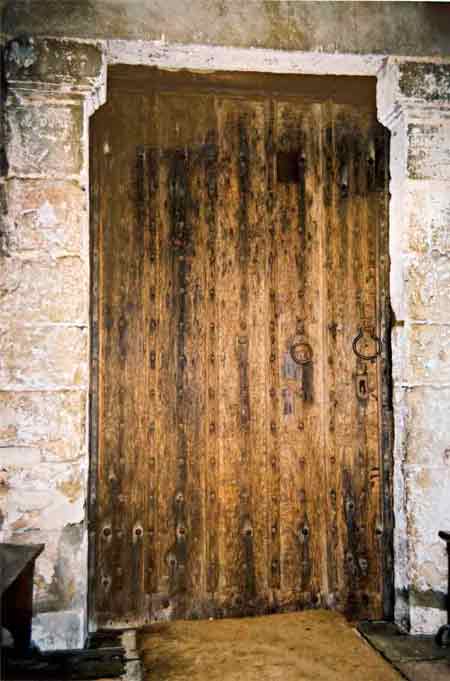 One of the jewels of the church is the oak door. It is exceptional to find such an ancient door still in use and it has been suggested that this is possibly the oldest hanging door in the country. It consists of three sections clamped together by iron bolts: the external face is 14th century and although it was exposed to the elements for centuries, we can still appreciate its simple linen fold design.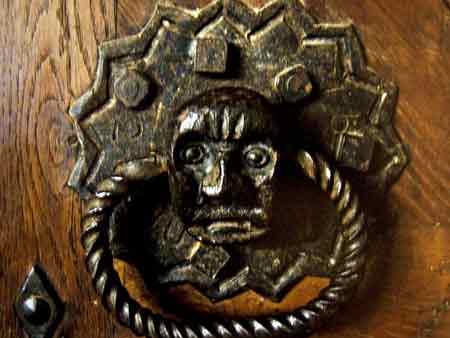 Appearances are deceptive! The handle is not of ancient origin. Underneath and to the sides of the handle is the inscription: 20th June 1897!