Getting married at St. Leonard's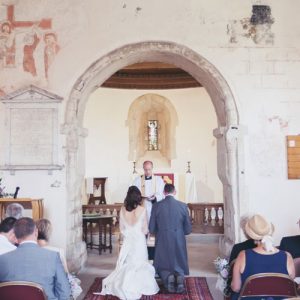 Congratulations on your engagement! We are delighted that you are seeking further information about being married at St Leonard's.
At St. Leonard's we will do everything we can to ensure that your wedding ceremony is really special and that arrangements are right for you. We are also here to help you prepare for your married life together. By getting married in church, you are asking for God's blessing on your life together – the best start you can have.
Why get married in Church?
A marriage service, wherever it is held, is a public declaration of love and commitment to your partner. Getting married in church is both a personal commitment and a moral determination, stronger than passion, emotion or attraction. It means, 'I will be with you whatever fate brings. I will stay loyal to you. When you need me, I'll be there'. If you choose to get married in church, there is an added dimension – the assurance that God cares about your relationship and that his resources and strength are available to help you.
Who can get married?
Marriage in the Church of England must be between a man and a woman over the age of 18 years (or over the age of 16 if you have the written consent of your parents). You must not be married to anybody else, and may not be more closely related than first cousins. If one or both of you are not British Citizens, you will need to discuss the possibility of obtaining a Special Licence with the vicar at the outset, before a date for your wedding can be confirmed. God loves everyone, and Christian marriage is open to all those who ask for a Christian wedding: you do not need to be baptised or confirmed in the Church of England.
Can we get married at St Leonard's?
If one or both of you live in the parish or worship regularly in the Parish of Bengeo you are entitled to get married here by Banns. This is an old tradition, still legally required, whereby an announcement of your impending marriage is read out in church on three Sundays beforehand. Traditionally, this gives members of the public a chance to object to the marriage – but this is extremely rare these days! If neither of you live in the Parish, it may still be possible to get married here. If you choose to attend services regularly for six months you can apply to be placed on the church electoral roll and therefore get married by Banns. The Vicar will be happy to advise you on this. In other circumstances, for example, if you have recently moved from the parish but have parents still living locally it may be possible to apply for a Special Licence from the Archbishop of Canterbury. We can help you with this. There may be other circumstances under which a wedding here would be possible – please get in touch with the vicar to talk it through.
Marriage at a church with a qualifying connection
Following the change in recent wedding regulations by the Church of England Marriage Measures Act 2008 it is now possible for a couple to be married in a church that has a special meaning to them. Therefore from 1st October 2008, providing the church is available for a service; couples will be able to choose to get married in:
their local parish
the parish where they were baptised and/or confirmed
a parish they have lived in for 6 months or more, at any time during their lives
a parish they have attended worship in for at least 6 months
the parish their parents lived or worshipped in (during the child's lifetime)
the parish where your parents or grandparents were married

I have been previously married and am now divorced. Can I be married at St Leonard's?
The Church of England affirms that marriage should always be undertaken as a 'solemn, public and life-long covenant between a man and a woman'. It recognises that sometimes there is an irreconcilable breakdown in relationships. The church also recognises that the Christian faith is about new beginnings. It would be important that anyone applying to be considered for a marriage in church after divorce had all the issues from their first marriage amicably settled. The parish has an agreed policy for those seeking marriage who have been previously married and whose former partner is still living. The vicar will need to speak with you in some more detail and we will need to see your decree absolute. Marriage is not usually solemnised in church after more than one divorce.

It is also possible to arrange a service of prayer and dedication after a civil marriage. This is commonly called a church blessing. Please talk to the vicar if you would like more information about this.

When do we have to book?
It is best to book the church as soon as you have decided to get married. We currently have bookings up to two years in advance but there are still plenty of spare dates in the calendar. It is important to check with us that the church is available before booking your reception. In Bengeo we prefer to celebrate one wedding per day – it is important that you do not feel rushed, and the clergy, organist, the buildings and its grounds are 'all yours' for the day.

What does the service consist of?
The normal pattern for a service contains music for the entrance of the bride, two or three hymns, music during the signing of the register and music as the couple walk back down the aisle. The church organist will be happy to talk through these items with you. The service also includes one or two readings, one a Bible reading and the second another suitable reading, to be checked with the clergy. The bell of St. Leonard's will be rung at the end of the service to signal to the Bengeo community the arrival of a newly married couple.

How long does the service last?
Your personal choice of music and readings will determine how long the ceremony lasts. If you want a brief service without hymns or a sermon then it will take about 25 minutes. A full service of three hymns, sermon, additional readings and music will take about 40 minutes. You choose.

Do you allow our guests to throw confetti?
Yes – but please away from the church door! We do ask confetti is biodegradable; we have lots of squirrels and birds in our church grounds.

Do we have to get married on a Saturday?
No; it is possible to get married on any day of the week, providing that the church is available. If you wish to get married on another day of the week please enquire.
Can we have a small ceremony?
Increasingly couples are choosing St. Leonard's to host a small ceremony shared between a close circle of close friends, family and well-wishers. The church seats 80 people comfortably – larger congregations can be accommodated easily at Holy Trinity Church, also in the Parish of Bengeo. A wedding ceremony is essentially a public celebration, welcoming a new married couple into the community. But the exchanging of marriage vows is also an intensely personal occasion between the couple. St. Leonard's enjoys a special atmosphere that lends itself perfectly to the intimate celebration many couples are looking for.

Getting married at St. Leonard's
Getting married is one of the most important occasions in life, and your wedding day should be special. There's no finer setting for such a wonderful experience than the Norman Church of St. Leonard, the oldest building in Hertford and a site of Christian worship for over 800 years.
To discuss the possibility of getting married at St Leonard's or if you have further questions please contact Revd Robert Thompson on 01992 413691 You will need to fill in an application form, so that we have a record of the full details which will need to be entered on the marriage certificate. Please inform us as early as possible about your plans.