Events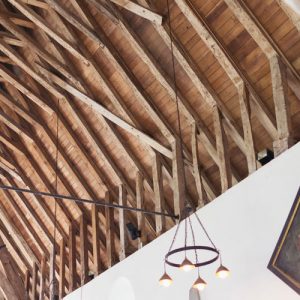 St Leonard's Church Bengeo – Hertford's Oldest Building
St Leonard's Church, Bengeo, is the oldest building in Hertford.
It is an almost perfect example of a Norman village church dating from the early twelfth century and until Holy Trinity Church was opened in 1855 it was the spiritual focus for the village.
The church stood empty and unused for a number of years, but thanks to the Gosselin family of Bengeo Hall a sensitive restoration of the building was carried out between 1884 and 1894, by J T Micklethwaite. The Chancel roof and stained glass in the east window date from this restoration.
The atmosphere of St. Leonard's as a place of worship and of historical interest is largely set by the medieval wall paintings that were uncovered during the 1938 restoration by William Weir. These wall paintings give a valuable insight of the earlier life within St. Leonard's.
The painting on the wall arch is referred to as 'The Deposition of the Cross'. It is a beautiful and moving 13th century work depicting a scene where a small group of Christ's followers take down his sacred body from the cross. There are further remains of wall paintings elsewhere in the Nave and Chancel.
Today, the building plays a valued part in the life of the Parish of Bengeo. Services are held most Sundays from Trinity Sunday to the end of September, together with occasional concerts and recitals. St. Leonard's is a recognised part of the artistic and religious life of Hertford.
But most of all, we appreciate having a building where the worship and praise of God have been offered in rich diversity almost unbroken for nine centuries.