Donate
08-October-2015
Accessible Toilets for St. Leonard's
In May 2016 The Friends of St. Leonard's began their fundraising campaign to bring accessible toilets to the building. A small extension has been designed in keeping with the Norman architecture, accommodating accessible toilets and handwashing facilities.

With running water and toilets currently unavailable, use of the building is practically limited, especially for the elderly and children. The nearest public toilets are located ¼ mile from the church.

At the request of many visitors to the church, the FoSL have held fundraising events and a Buy-a-Brick campaign which has grown our building fund to today's total of £52,000, well on our way to our target of £89,000.

We have planning consent and approval from English Heritage and the Diocese of St. Albans.

Introducing accessible toilet and handwashing facilities to the church will enable us to meet people's needs for comfort and hygiene and allow us to offer practical use of the building to a wider range of people.
Will you help us? You can donate to the Friends of St. Leonard's
here
and help us keep Hertford's most historic
building alive and well.
New Projects at St. Leonard's
Beautifully designed and uniquely inspired, a new font cover is proposed for St. Leonard's Church, Bengeo. This project will combine practical purpose with spiritual values, telling the story of St. Leonard through its form and function.

If this idea captures your imagination then you can make it happen, and your love for St. Leonard's will be shared with hundreds of people for many years to come.

For further details contact The Vicar, Rev'd Robert Thompson

Font Cover

Designed to reflect the ancient roof timber of St. Leonard's and in honour of its builders.
The font cover in created mainly in English Oak of circular form skewed to the shape of the bowl.

It begins with a lower rim housing a strong panel to protect the font and its contents.
The detailing at the top of each support with walnut draw pegs and small panels is reminiscent
of the roof construction of the church. The Oak rises towards the roof in a contemporary style with aspiration for heaven and yearning for the gift of the Holy Spirit.

The modernist angular shape of each spoke terminates in a facet of light, symbolised with golden Burr Ash inlayed with the cross chains, the symbol of Leonard, leaving no doubt where the font belongs.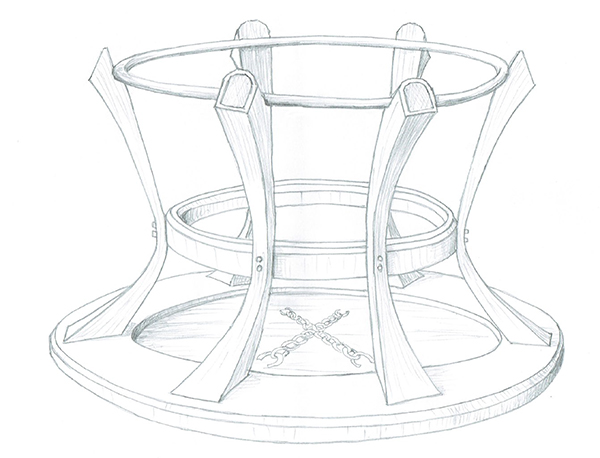 Estimated investment: £6520.00, inclusive
Proposed size: Diameter 56 cm (22")
Overall height 38 cm (15")