Donate
08-October-2015
New Projects at St. Leonard's
Beautifully designed and uniquely inspired, a new font cover is proposed for St. Leonard's Church, Bengeo. This project will combine practical purpose with spiritual values, telling the story of St. Leonard through its form and function.

If this idea captures your imagination then you can make it happen, and your love for St. Leonard's will be shared with hundreds of people for many years to come.

For further details contact The Vicar, Rev'd Robert Thompson

Font Cover

Designed to reflect the ancient roof timber of St. Leonard's and in honour of its builders.
The font cover in created mainly in English Oak of circular form skewed to the shape of the bowl.

It begins with a lower rim housing a strong panel to protect the font and its contents.
The detailing at the top of each support with walnut draw pegs and small panels is reminiscent
of the roof construction of the church. The Oak rises towards the roof in a contemporary style with aspiration for heaven and yearning for the gift of the Holy Spirit.

The modernist angular shape of each spoke terminates in a facet of light, symbolised with golden Burr Ash inlayed with the cross chains, the symbol of Leonard, leaving no doubt where the font belongs.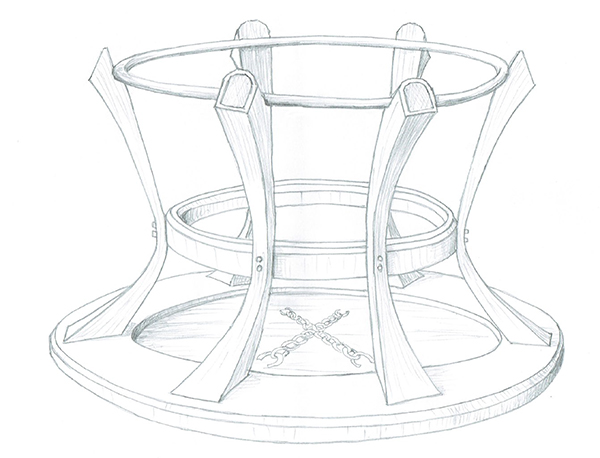 Estimated investment: £6520.00, inclusive
Proposed size: Diameter 56 cm (22")
Overall height 38 cm (15")